The LoRaWAN® Live event was recently held on 13th June 2019, in Berlin. Part of LoRa Alliance's Annual Members' Meeting, the event welcomed both members and external guests to network and reinforce business development opportunities across the ecosystem.
The event was attended by Lucy Zodion Sales Team members Robert Ashworth and Thierry Suzanne, to better understand the technology and its progression, as well as meet with other innovators and end-users of the ecosystem. Here we give you the LoRaWAN® Live lowdown.
Stealing the show
At the event the LoRa Alliance launched a white paper in collaboration with ABI Research: 'LoRaWAN® and Nb-Iot: Competitors Or Complementary?', which compares LoRaWAN® and NB-IoT. A timely release that aims to reinforce the value of the LoRa technology, while highlighting the differences and similarities between the two technologies as below: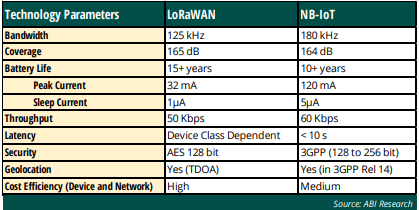 The report also highlights that, as of April 2019, there are now more than 113 LoRaWAN® networks worldwide (across 55 countries); all of which are at various stages of commercial deployment. According to the LoRa Alliance this compares to just 90 NB-IoT networks.
In addition, recent reports have stated that three quarters of the IoT market will be given over to low-power wide-area (LPWA) network solutions, compared with just one quarter for high-bandwidth low-latency 5G applications.
Donna Moore, Chief Executive and Chairwoman of the LoRa Alliance, backs this up commenting that:
Seventy-five per cent of the mass IoT market is in the low power, long life battery, small data messages, deep penetration in building, and easy ramp up, as well as connections in rural areas and over water.
Twenty-five per cent of the mass IoT market will be 5G with low latency, high bandwidth for applications like emergency services, connected car, videos and entertainment, which isn't LoRaWAN's niche.
Source: https://enterpriseiotinsights.com/20190618/channels/news/lora-shoots-for-75pc-of-iot-market
Emerging vertical markets
In the whitepaper, it is stated that LoRaWAN® solution growth is accelerating because the device ecosystem has been rapidly expanding to address a broader set of vertical markets. Donna Moore reinforced this, commenting:
LoRaWAN® hits the sweet spot of applications that are never-ending.
This was evident at the LoRaWAN® Live event, where we saw a veritable mix of LoRa enabled solutions throughout a wide range of industries.
However, while a plethora of sensing device innovators were present, from flooding to air quality; it was surprising to see that street lighting LoRa nodes were still few and far between. With recent EU plans aiming to readdress the use of the 'Humble Lamppost' (read here) throughout urban spaces and, as the starting point for most smart city initiatives, it seems street lighting is yet to make its mark as a vertical in its own right. We hope to influence this in the near future.
Collaboration is key
LoRaAlliance's positioning statement is true to its word of 'Creating valuable IoT Connections'. The event welcomed a long list of members at varying stages of LoRaWAN® adoption and deployment, which was a great way for Lucy Zodion to understand how to co-exist successfully.
Both Robert and Thierry came back from the event with a deeper understanding of the rapidly expanding world of LoRaWAN® technology, with further insight into the trends and solutions that would be making their mark across a number of verticals in the very near future. If you'd like to discuss this or our compatibility with LoRaWAN®, further with our Sales Team, please contact us.